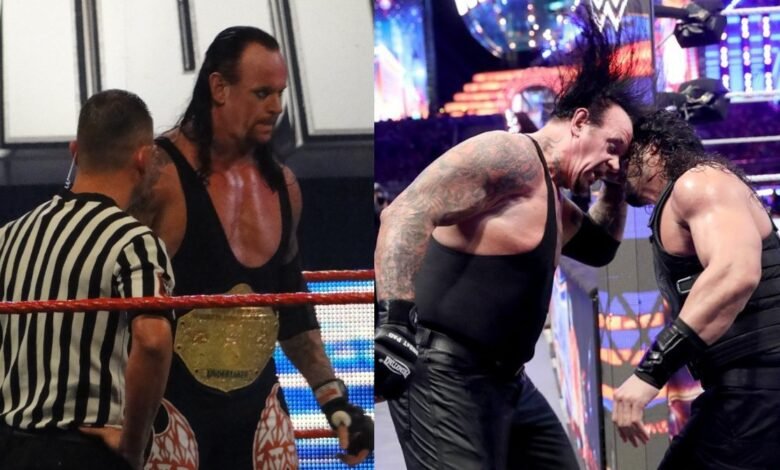 Retired WWE Superstar The Undertaker is one of the most respected names in professional wrestling. Nicknamed as The Deadman, The Undertaker's WrestleMania streak was one of the biggest storylines every year heading into the grandest WWE pay-per-view event. The streak ended at the hands of Brock Lesnar at WrestleMania XXX.
The Undertaker was 21-0 at the Show of Shows, and Lesnar became the 1 in 21-1. The Deadman suffered another defeat in his WrestleMania career. That was against Roman Reigns at WrestleMania 33.
Now after retiring, The Phenom has stated that it would have been better had Roman Reigns ended his legendary streak instead of Brock Lesnar. Here's what The Deadman said in his interview with The Dallas Morning News:
"I don't know if Brock was the right guy. I like Brock, Brock and I are friends. I don't know that Brock needed that win. Brock was a bona fide superstar at that point. So, I don't know that he needed it."
When asked who should have ended the streak instead of Brock Lesnar, The Undertaker replied:
"Roman, definitely… that was the right call. I just wish he may have been first. If Roman had been able to do it, I think it would have increased the value."
The Undertaker wrestled his last WrestleMania match against AJ Styles last year
As mentioned ahead, The Phenom has now retired from professional wrestling. His last bout took place at WrestleMania 36 against The Phenomenal One AJ Styles. It was the first-ever Boneyard Match, and as expected, The Phenom prevailed over his rival in a cinematic match.
After that pay-per-view, WWE organized a grand farewell for one of the biggest names in professional wrestling history. The Undertaker's Final Farewell happened at WWE Survivor Series in the presence of many legends. It is likely that The Undertaker may receive a Hall of Fame induction soon.