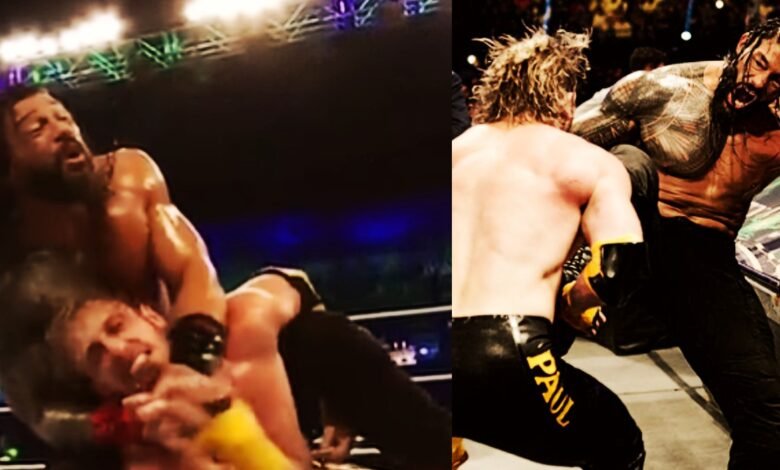 During the stellar main event of Crown Jewel 2022 of Roman Reigns vs Logan Paul, Roman called out many famous YouTubers while tormenting Logan. There was a spot where he had Logan in a chin lock and was speaking to the camera, calling out the YouTuber's contemporaries KSI, MrBeast, and Dr Disrespect.
WWE's official handle tweeted about this segment too where they tagged both KSI and MrBeast.
.@WWERomanReigns just called out @KSI and @MrBeast at #WWECrownJewel! pic.twitter.com/cV3XxruHsZ

— WWE (@WWE) November 5, 2022
KSI tweeted the whole video and acknowledged The Tribal Chief's challenge as well. In the video, Reigns was saying that no other YouTubers would come to WWE after Logan Paul and took names of the three mentioned earlier. He said "…Ain't no more YouTubers comin' over here anymore…KSI, MrBeast, Dr Disres…"
Roman wants that smoke lol @MrBeast pic.twitter.com/LMROBcSPod

— ksi (@KSI) November 5, 2022
MrBeast responded to both WWE and KSI tweets in his usual easygoing fashion with emojis.
However Dr Disrespect was more direct in his reaction. He tweeted that Roman deliberately did not take his name completely, implying he was scared.
Noticed who he was about to say, but then decided against it.

— Dr Disrespect (@DrDisrespect) November 6, 2022
Out of these three YouTube celebrities, it will either be KSI or Dr Disrespect who could present some competition to Reigns as MrBeast has no athletic background.
KSI is also a business partner of Logan Paul, partnering with him on his PRIME Hydration energy drink. They've had 2 boxing matches with each other, both winning one each. He has had other boxing matches too and he has won all of them.
Dr Disrespect will also be a great match for the Undisputed WWE champion. He is muscular, is 6'8 tall, and has an athletic background. He is famous for his YouTube gaming streams and ESPN even called him "a WWE character in the competitive gaming world". That is because of his sassy Dr Disrespect character that he plays while streaming. His real name is Herschel "Guy" Beahm IV.
WWE can get some mainstream media attention if they start collapsing with these top YouTube celebrities and vice versa. Logan's brother Jake Paul, who was involved at Crown Jewel, should be a part of some WWE storyline soon.